GILES RAFFERTY, Corporate Communications and Media Advisor
---
We are fast approaching the first reporting season under the 4thedition of the ASX Corporate Governance Principles and Recommendations. An aspect of the new Principles and Recommendations, which we wrote about in our March 28th 'Purpose for the Board' blog, is the elevation of responsibility for linking a company's values, purpose and strategic goals to Board level. This reporting season is also the first under the Modern Slavery Act, where companies generating revenue in excess of $100 million will have to report on the risks of their business contributing to slavery and what they are doing to address those risks. More broadly, the trend amongst investors for more visibility on a company's ESG performance is building momentum for the adoption of Integrated Reporting, which is intended to give a better view of the total value created by a company.
Purpose drives good decision making
At First Advisers we believe it has always been important for companies to have a clearly defined, authentic and well expressed purpose and never more so then now, to help companies meet the requirements of the changing reporting landscape. A clear purpose is more than an aspirational statement of good intent. A company's purpose will underpin its social license to operate; guide and align appropriate behaviours and decision making within an organisation and motivate and retain employees. Purpose is a driver of operational success.
Compliance rules creating cultural risks
Earlier in June I attended a University of New South Wales Business School forum focused on the topic of Ethical Leadership in an Accelerating World. There were several themes discussed within the forum but one in particular resonated strongly with why purpose needs to be at the core of how companies operate. The keynote speaker, Dr. Simon Longstaff, Executive Director at the Ethics Centre, noted that while many damning revelations emerged from the Banking Royal Commission it also emerged that the problems within the financial services sector were not caused by an absence of rules, laws or compliance controls.
"There's not a problem about there not being enough rules or laws, the sorts of ethical failures and the costs that flow from that both in terms of human lives and also economic costs are a product of a cultural failure in which people have not been able to exercise the kind of ethical restraint which is required to say I know I could do it but we won't"
Dr. Simon Longstaff Executive Director, The Ethics Centre
Conscious subversion a key trait of good leadership
This observation highlighted the need for leadership, which Dr. Longstaff characterised as being an inherently ethical practice, that linked how a company operated back to its purpose, values and principles. The idea of the leaders' roles being linked to making a company purpose led does not dismiss the need for control and compliance frameworks. Instead it empowers all employees, guided by the company's purpose, to make better decisions when dealing with circumstances that don't fit neatly within the control framework. Dr. Longstaff express the view that the exercise of control and compliance was a function of management while it was up to leaders to consciously subvert any unthinking customs and practices, within a company, that might prevent it from fulfilling its purpose.
Leaders need to embed a purpose in their organisations
Alongside the requirement for Boards to be accountable for linking a company's values, purpose and strategic goals, recommendation 3.1 of the ASX Corporate Governance Council also requires the Board to hold a company's senior leadership team accountable for embedding those values across the organisation and setting the 'tone from the top'.
---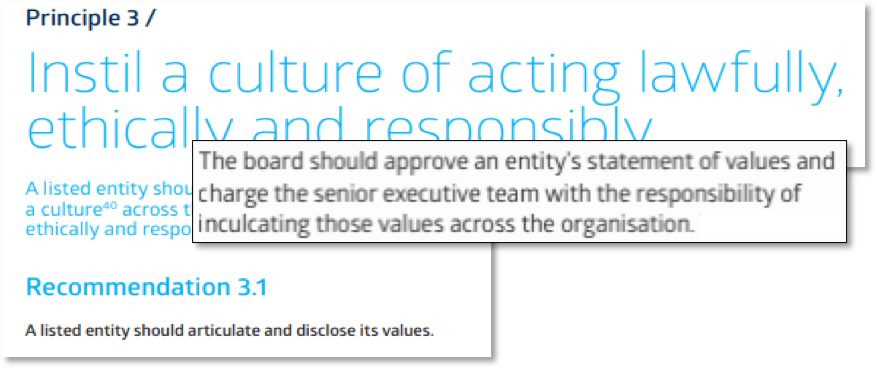 ---
FIRST Advisers' Purpose Communicating program is designed to help Boards and senior executives define their company's purpose and values; build a strategy to communicate them internally and over time test how well understood they are within the organisation. We work with companies to make sure they meet the new standards for good governance.