ROWAN CLARKE, Investor Relations
---
For a number of years, FIRST Advisers has been monitoring same day reporting in Australia. We define same day reporting to be when a company releases their Annual Report on the same day that they release their Full Year Financial Results.
The practice of providing the Annual Report on the same day is now considered best practice for investor relations, as it provides shareholders with a complete suite of relevant information on the previous financial year to support management's commentary during the results reporting period. There are benefits for management that include freeing up time to focus on post-results roadshows, AGM preparation, business operations and planning for the year ahead, without the distraction of having to finalise an Annual Report.
In this blog, we report on same day reporting in 2021. Our review is focused on companies in the S&P/ASX300, segmented by market cap into Large-Cap (ASX100), Mid-Cap (ASX100-200), and Small-Cap companies (ASX200-300).
Same-Day Reporters Recovering from COVID constraints
In 2021, 51% of ASX300 companies provided an Annual Report on the same day that they released their Full Year Results. This was 5% above our 2020 finding of 46%, but below 2018 (58%).
COVID-19 impacted many companies in 2020 when they reported their financial results. Remote work arrangements, travel restrictions and other impacts of the pandemic, made it difficult for many companies to align the release of results with the publication of their annual report. These problems have started to ease in 2021.
---
CHART 1:
COMPANIES RELEASING ANNUAL REPORTS ON THE SAME DAY AS FINANCIAL RESULTS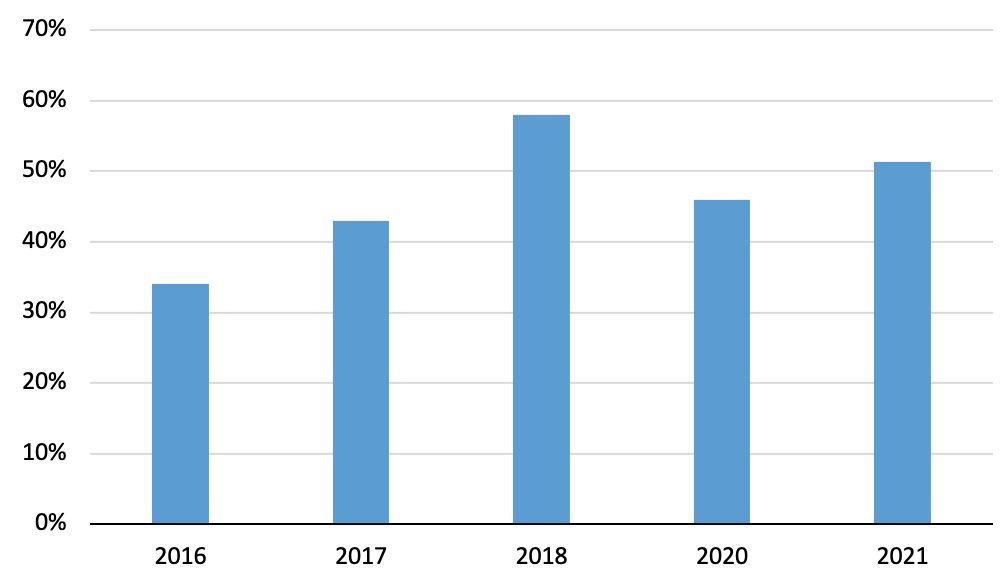 ---
In 2021, same day reporting improved in the large-cap and mid-cap cohort. For small-cap companies, the logistics involved in same day reporting appear to remain an issue as numbers fell slightly from 47% in 2020, to 45% in 2021. Prior to the COVID-19 pandemic, 57% of small-cap companies were same day reporters.
57% of ASX100 companies were same day reporters, which is an improvement from the previous year (49%) but is also ahead of 2018 (56%). Mid-cap companies had the greatest decline in same day reporting during 2020 but have also picked up the most, improving 9 percentage points in 2021 to 52%, but still below the benchmark level that was set pre-COVID-19 of 63%.
---
CHART 2:
SAME-DAY-REPORTING WITHIN THE ASX 300 BY COMPANY SIZE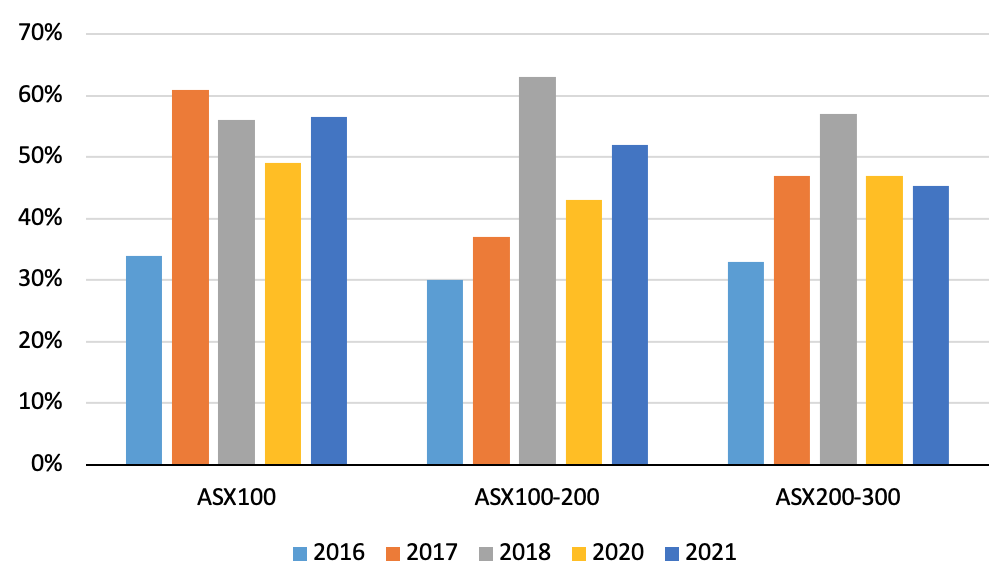 ---
More companies are publishing their Annual Report within one week of their results, in 2021
In 2021, as many companies are publishing their Annual Report within one month of their results, as they did in 2020. The largest improvement is seen in the number of companies publishing an annual report within one week, up from 46% in 2020 to 52% in 2021. Despite the improvement, it is still lower than pre-COVID-19 levels when 60% was reported in 2018. A trend that is becoming more pronounced, however, is for companies to either report within the first week of reporting their full year financial results (52%) or to delay it until closer to the statutory maximum period of 5 to 8 weeks (37%).
---
CHART 3:
NUMBER OF WEEKS BETWEEN FINANCAL RESULTS AND ANNUAL REPORT
---
Differences still exist between industry sectors
In 2021, our study shows that Utilities (75%), Financials (69%), Industrials (68.7%) and Information Technology (61%) are all strong adopters (60%+) of same day reporting. In 2020, e Utilities (100%), Financials (63%) and Consumer Staples (60%) led the adoption of same day reporting so the notable improvers in 2021 were the Industrials and Information Technology companies.
The remaining sectors had 35% to 47% of their constituents provide an Annual Report on the same day as their Full Year Results in 2021.
---
CHART 4:
SAME-DAY-REPORTING – SECTOR BREAKDOWN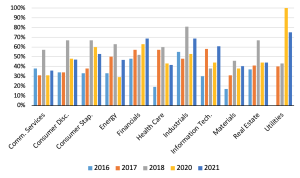 ---
Two sectors reported an improvement in same day reporting, above both 2018 and 2020 levels. As previously mentioned, 61% of the Information Technology sector adopted this practice in 2021, above both 2018 (38%) and 2020 (44%) levels. A similar trend is seen in the Financial sector, which increased from 52% in 2018 to 63% in 2020 to 69% in 2021.
Conclusion
Despite same day reporting being widely accepted as the best standard in financial reporting, the logistical challenges created by COVID-19 have not eased enough in 2021, to see an improvement in the adoption of same day reporting compared to 2018 levels. We expect that as COVID-19 induced restrictions are removed, and with further improvements in publishing and content creation technologies, the number of companies embracing same day reporting will return to pre-pandemic levels.