VICTORIA GEDDES, Executive Director.
---
At FIRST Advisers we pay close attention to the activist space in Australia, having worked on many campaigns for both activists and companies over the past ten years. In our monthly newsletter we have a regular slot that summarises for our readers the various activist campaigns over that month and we maintain a database to track and analyse the nature of activism in Australia over time.
So it has been interesting to watch activity levels plummet in this market since the beginning of the year. Is this to do with COVID-19, is it the state of uncertainty and increased volatility that has been gripping markets since March, are valuations over the past 12 months at levels that mean investors have less reason to feel disaffected than before or is it just that activist demands are increasingly being resolved behind closed doors without the need to go public? Any of these factors could provide a plausible explanation but first let's look at some of the stats provided by Activist Insight.
---
Australian Activism at lowest level in at least 5 Years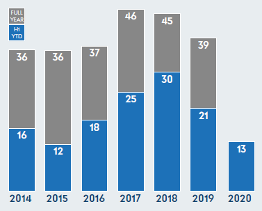 Activist campaigns in the first six months of 2020 are 50% below the peak year of 2018, a level not seen since 2015. The trend was there in 2019 and, if the pattern in recent years of a stronger first half continues, we are potentially looking at the quietest year on record. What activity there has been is predominantly (79%) focused in companies with a market cap of under $50m and, as in previous years, the basic materials (37%) and energy sectors (16%) are the most active.
This chart tracks campaigns that ended up going to a vote at a meeting which, in recent years, represents around two thirds of all the actions that are commenced. The rest are withdrawn or withdrawn as a result of a settlement with the activist.
---
Activist Demands and are they Successful?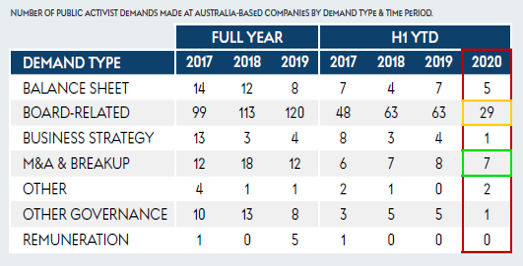 Australian activism has always been focused on the board with 65-75% of campaigns in past years targeting this area. In the first six months of 2020, the number of board related demands fell by more than half to 29 from 63 in the previous corresponding periods in 2019 and 2018. Balance sheet demands or M&A /Breakup activism largely tracked at similar levels to recent years.
As a general statement, if a campaign goes public and goes to a vote at a meeting the stats tend to favour the company. Our analysis of all campaigns in the first half of 2020 compared to the same period last year, indicates that this was accentuated with 58% of companies defending their position relative to 39% last year. However, in addition to activists winning the vote at the meeting, there is a reasonable percentage of meetings withdrawn because the activist succeeds in getting their demands met through negotiation with the company. Last year activists prevailed in 42% of actions against 32% so far this year. So the numbers are more equal than they appear on face value.

---
Australia vs the world
Not all countries experienced reduced levels of activism during the first half of the year as Activist Insight's listing of the top 10 illustrates. In the US, flag bearer for activism worldwide, it is pretty much business as usual (-6%). While Canada, Australia and the UK have all experienced a drop of around 50% in activity, Sweden has seen a tripling in demands compared with the past couple of years pushing it into the top 5.  Japan looks likely to overtake Australia this year as the second most popular region for activism despite demands dropping 20% compared to last year. What is unusual is for the general trend to be down across most countries.
So has this decline happened before and is there something we can learn from past years? Well no, not really. Since 2013 activism has been steadily increasing, particularly in the most active countries listed in the table below. 2020 is an unprecedented year and its impact on activism is just another example of the disruption across markets and economies being experienced across the globe.