Between 2016 and 2018, FIRST Advisers monitored how long companies took to release their Annual Report following the release of their Financial Results.
The implementation of Same-Day Reporting has become an industry standard in terms of best practice investor relations because it reflects a commitment to release this document at a time when it has most relevance to investors. It also has the practical benefit of freeing up the time of senior management time to focus on post-results Roadshows, AGM Preparation, business operations and planning for the year ahead.
Our research identified more and more companies were implementing 'Same-Day' or 'Simultaneous' reporting each year, with more than half achieving this objective in 2018.
Two years after identifying this trend, and in a year of significant disruption due to COVID-19, we have revisited our investigation to see how many current ASX300 companies that reported in August (i.e. a June 30 balance date) published their annual report on results day.
There has been a decline in the number of Same-Day Reporters
In 2020 our investigation revealed that 46% of ASX300 Companies that reported in August were Same-Day reporters. This was 12% below our 2018 finding of 58%, however it remains above 2017 (43%) and 2016 (34%) levels. (Chart 1).
Since 2018 there has been a notable change to the composition of reporting companies. Of the 203 ASX300 companies that reported in August 2020, 50 of them were not featured in our 2018 report. Interestingly, 50% of companies that are new to our investigation were Same-Day Reporters, compared with 45% of 'returning' companies.
CHART 1:
COMPANIES RELEASING ANNUAL REPORTS ON THE SAME DAY AS FINANCIAL RESULTS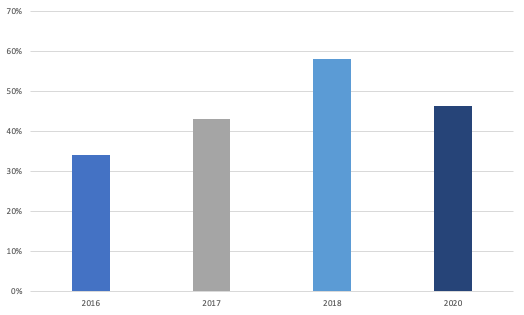 ---
Our analysis of 2020 data shows that there were declines in Same-Day Reporting for companies of all sizes, but most notably mid cap stocks where 43% were identified. Mid Caps were previously reported as the largest adopters of Same Day Reporting with a 33% uplift over 3 years to 62% in 2018.
49% of ASX100 companies were same day reporters, which is down from 2018 (56%) and 2017 (61%). Our findings showed 47% of Small Caps (Ex-ASX200 but within ASX300) were Same-Day Reporters, which is in line with 2017 but lower than 2018 (57%). (Chart 2).
CHART 2:
SAME-DAY REPORTING WITHIN THE ASX 300 BY COMPANY SIZE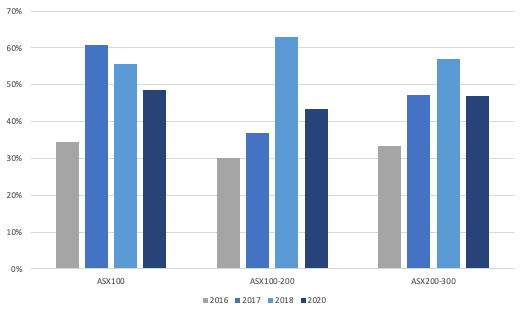 ---
More companies in 2020 are delaying publication compared to 2018
In 2018 we highlighted that companies which had not adopted Same-Day Reporting were still managing to publish their Annual Reports sooner after their Financial Results than prior years. This year, 62% of companies published their Annual Reports within one month of their results, down from 76% in 2018. Findings this year were below 2017 levels (68%) and in line with our 2016 findings (61%). (Chart 3).
CHART 3:
NUMBER OF WEEKS BETWEEN FINANCAL RESULTS AND ANNUAL REPORT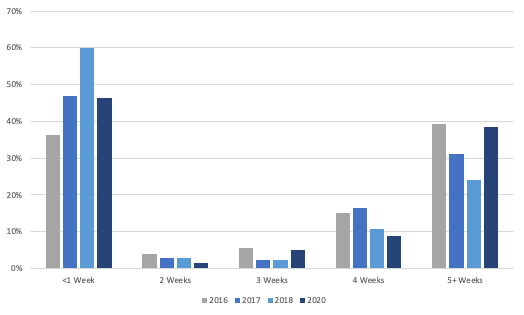 ---
38% of companies took more than four weeks to publish their 2020 Annual Report, which includes 36 companies from the August reporting period that still have their report outstanding. In 2018 only 24% of companies took 5+ weeks.
Consistent with our findings from 2016 to 2018, Large Caps are still faster at producing their Annual Report, with 51% of ASX100 companies having published by the end of week two, compared with 46% for Ex-100 companies. Less than a third (29%) of ASX100 companies had not produced their 2020 Annual Report within a month of releasing their Financial Results, compared with 43% of Ex-100 companies.
Different sectors have different standards
By sector, our analysis also shows that in 2020 Same-Day Reporting was adopted most broadly across Utilities (100% of constituents), Financials (63%), Consumer Staples (60%) and Industrials (53%). For the remaining sectors, less than 50% of constituents were Same Day Reporters. (Chart 4)
CHART 4:
SAME-DAY REPORTING – SECTOR BREAKDOWN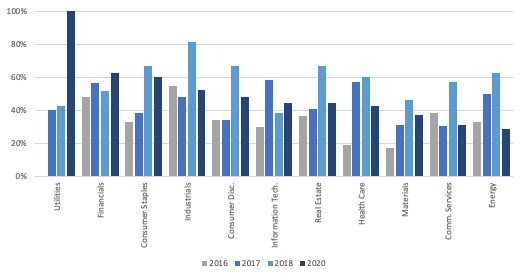 ---
The sector classification of some companies was retrospectively adjusted to reflect the introduction of the Communications Services sector since our 2018 investigation.
In 2020 our analysis identified two constituents in the utilities sector, both of which were Same-Day Reporters. This compares to five constituents in 2018, with three of those since dropping out of the ASX300.
Financials was another sector where the composition of members increased the relative rate of Same-Day Reporting, lifting from 52% in 2018 to 63% in 2020. Although the number of constituents was steady, there was a rotation of members with 7 new entrants while 6 companies we researched in 2018 did not make this years' list.
Same-Day Reporting in Information Technology companies was 44% in 2020, up from 38% in 2020. The sector experienced the largest net change of members included in our report (+5).
29% of Energy companies were Same-Day Reporters in 2020 and exhibited the biggest decline when compared to 2018 (a fall of 34% from 63%). The number of eligible companies in the sector in 2020 was seven, an increase of one since 2018.
Industrials saw the second largest decline – 53% in 2020 compared to 81% in 2018 – and also experienced a net reduction of four constituents. Of the six members in 2018 that did not make up our 2020 analysis, four of them had been identified as Same-Day Reporters between 2016 and 2018.