GILES RAFFERTY, Corporate Communications and Media Adviser
---
One of the findings from the annual Edelman Trust Barometer survey is a cycle of distrust that is threatening societal stability both here in Australia and globally. The survey results were published on February 16th, a little over a week before Russia invaded the Ukraine.
Australia trapped in a cycle of distrust
---

---
The Edelman data focuses on trust in the key institutions of Government, NGOs, Business and Media and uncovers a failure of societal leadership that has made distrust the default among Australians. More than half of Australians see the Government and media as more divisive then unifying for society, while more Australians than not viewed business and NGOs as more unifying for society.
Looking specifically at media, the data shows trust has fallen across the board with traditional media faring the best but still only trusted by 48% of Australians, down 5 points. Search engines are down 4 points to 47%; owned media is down 5 points to 33% and social media is down 8 points to 24%. It is no surprise then that concerns about disinformation and fake news remain high with 73% of Australians worried about false information being used as a weapon.
---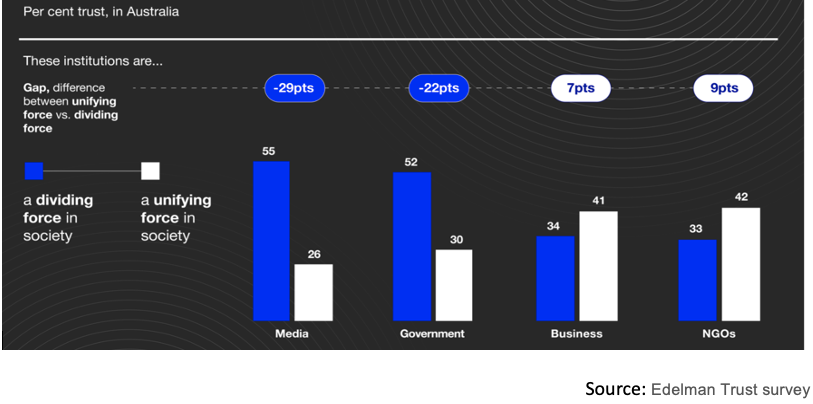 ---
The data also shows an erosion of trust in society's traditional leaders, with only 43% of Australians trusting both government leaders and CEOs, each down 9 and 5 points respectively from 2021. In addition, a majority of Australians believe that journalists (65%), government leaders (61%) and business leaders (61%) are actively trying to mislead them by saying things they know are false or grossly exaggerated.
---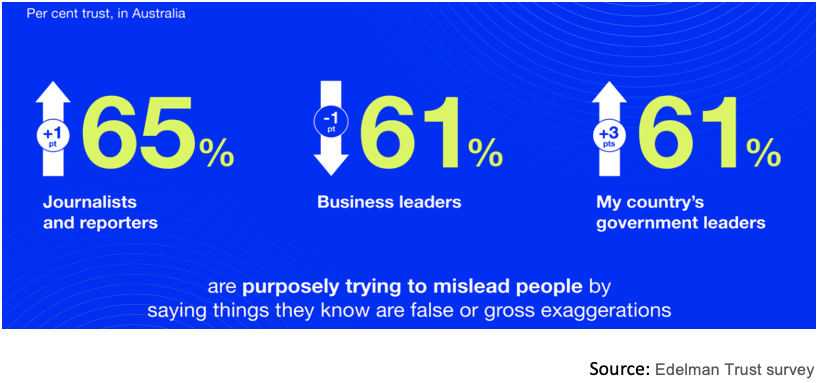 ---
A majority of Australians (55%) said their default tendency is to distrust something until they see evidence it is trustworthy and 61% say Australians are incapable of having constructive and civil debates about issues they disagree on.
Societal leadership becomes a business imperative
The Edelman survey shows all stakeholders now hold business accountable for taking a stand on issues that align with their values and beliefs. Fifty-six per cent of Australian consumers will buy or advocate for brands based on their belief and values; 57% of Australian employees will choose a place to work based on their beliefs and values, and 64% of investors make financial decisions based on their beliefs and values.
---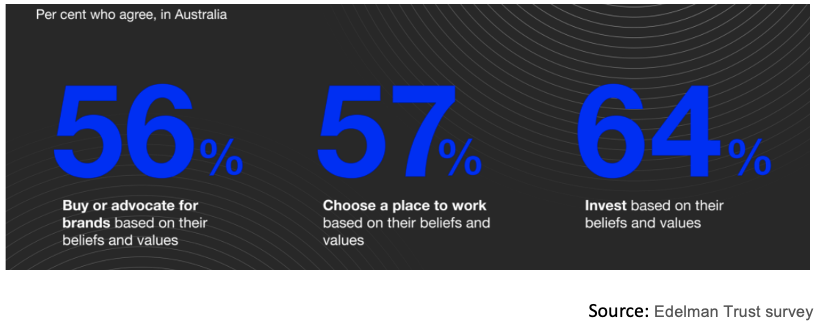 ---
This expectation for business to take a stand on social issues is putting greater pressure on CEOs to personally lead on change and be visible. Eight in ten Australian's believe CEOs should be visible discussing policies or work their company has done to benefit society with external stakeholders.
Business poised to break cycle of distrust
Business is now also the only institution that is perceived as both competent and ethical – bestowing upon it a clear mandate for driving social change. Add to that the data shows employers continue to enjoy strong levels of trust with their employees, with nearly three quarters of Australian employees (74%) saying they trust their employer. Employers' communications are also a highly trusted source of information. 70% of Australians say they trust communication from their employer compared to 63% for government, 58% for media reports with named sources and 51% for advertising.
If business is to become the institution that starts to rebuild trust in Australia, then its ability to provide high quality and reliable information cannot be overstated. The effective communication of 'quality information' was found to be the number one most powerful trust builder across all the institutions in the survey.