GILES RAFFERTY, Corporate Communications and Media Advisor
---
A listed company's Purpose is now, very much, a matter for Board consideration. The latest edition of the ASX's Corporate Governance Principles and Recommendations makes it clear the Board is responsible for linking a company's Purpose to its strategic goals.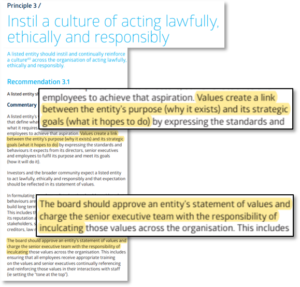 Principle 3 states a listed entity should instil a culture of acting lawfully, ethically and responsibly. While recommendation 3.1 goes further and says the Board should approve an entity's statement of values and those values should link the company's Purpose to its strategic goals.
A company's Purpose is why it does what to does, while its values guide the way the Purpose is achieved.
Approving a statement of values is not enough, Principle 3 also says the Board is responsible for making sure senior executives 'inculcate' the values across the business and are seen to constantly reinforce them in their interactions with staff. In other words, the senior leaders need to be seen to be taking the values seriously and living them on a day to day basis, to set 'The tone from the top'.
A Benchmark for good governance
The Corporate Governance Principles and Recommendations are not legally binding. They are intended to work on an "if not, why not basis", which means if you don't follow them you need to explain why. In practice they are a benchmark for good governance.
The rising importance of purpose is a subject we, at FIRST Advisers, have been following for some time. A well-defined corporate purpose is unchanging, which makes it an important reference point to help businesses navigate rapidly changing marketplaces, ever increasing digital disruption and changing stakeholder expectations. Purpose guides appropriate behaviours and decision making across a business and purpose led companies have greater appeal to a new generation of employees who want their work to have meaning beyond generating profits.
A strong correlation between a company's stated purpose and the way it is expressed in day to day operations helps to build trust with stakeholders. There is also a growing body of research that indicates companies with an authentic, embedded purpose deliver better total shareholder returns through time and add greater value to society.
More than a 'one and done' communication challenge
The elevation of purpose to the Board's agenda means it has never been more important to make clear communication of a company's purpose a priority. But this is not a 'one and done' communication challenge. The expression of a company's purpose needs to be a part of rolling communications strategy that touches every communication channel. Purpose and values need to resonate as much around the boardroom table as they do at the receptionist's desk.
An early adopter of an holistic approach to its corporate purpose was Standard Chartered bank, a client of mine from my days working in London. In 2010 they introduced 'Here for good', described as a powerful statement of purpose that questions, searches and redefines the traditional role of a bank. 'Here for good' is now so deeply ingrained in how Standard Chartered thinks about itself that it informs everything from staff behaviours to strategic decisions that guide the operations of the bank. Last September Standard Chartered made a direct link between their 'Here for good' purpose and decision not finance new coal fired power stations.
---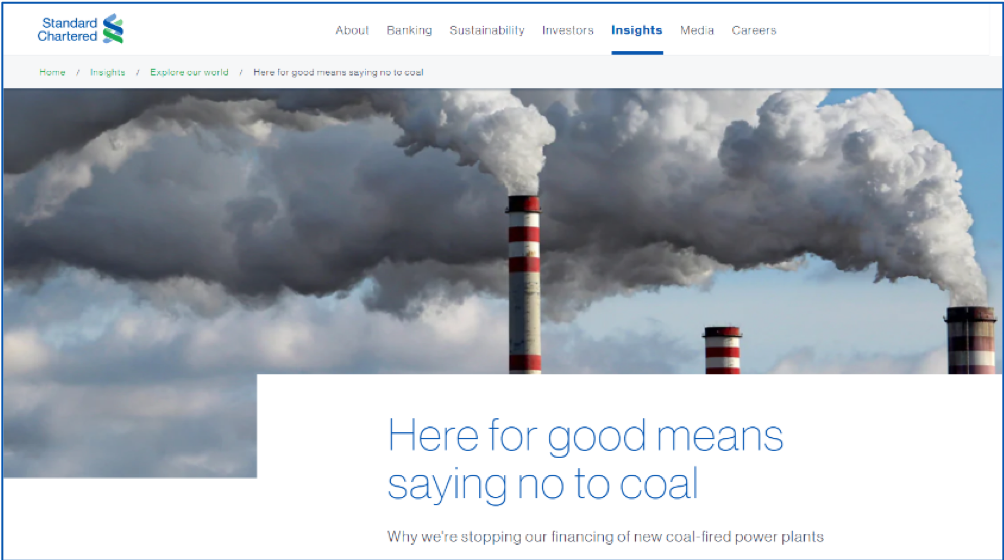 ---
Just having a well-defined purpose statement was not enough. We developed a multi-channel communication strategy to make sure that everyone, within and without Standard Chartered, knew about 'Here for good' and how much it mattered. It started at the top, with references to 'Here for good' in all senior leaders' communications.
As an authentic expression of Standard Chartered's purpose it was possible to present the bank's existing and successful sustainability initiatives through the lens of 'Here for good'. A good example is Standard Chartered's flagship 'Seeing is believing' campaign to tackle avoidable blindness in developing countries. Since its launch in 2003, 'Seeing is believing' has raised over US$100 million. With the introduction of 'Here for good' we were able to show how employee fundraising for 'Seeing is believing', and the bank's commitment to matching employee efforts, was an expression of how Standard Chartered and its people were 'Here for good'.
Benefits beyond mere compliance
At some level or another, all companies have a purpose. The fact the ASX Governance Council has made Purpose something a company's board is accountable for should be the catalyst that makes it central to every listed company's story. This is why an effective strategy for communicating purpose has always been critical and why, at FIRST Advisers, Purpose Communication is a standalone offering within our Corporate Communication practice. The benefits of adopting the ASX's recommendations around purpose go beyond compliance. Making sure your purpose is well defined, well understood and well expressed enhances a company's reputation and becomes a driver of long term value for all stakeholders.