VICTORIA GEDDES, EXECUTIVE DIRECTOR
Ten years ago I can remember marvelling at those companies that managed to get it together and release their full, glossy annual report on the same day as reporting their full year results. You could count them on the fingers of one hand. More commonly, three to four months after the end of the financial year, finance and investor relations teams would still be labouring over the production of a report that was old news for the investors and shareholders it was designed to inform.
Advances in publication technology and improved efficiencies in financial accounting have meant that, with a bit of organisation and planning, there is no reason why the fully designed and typeset annual report cannot be released on the same day as the company releases its financial results for the year.  And increasing numbers of companies are doing just that.
Over the past year, just over a third of all ASX 300 companies published their full annual report on the same day as reporting their annual results (Chart 1).
Chart 1: Release of Full Annual Report (Glossy) after FY Results Reporting
It would be a mistake to assume that the majority of these companies came from the well- resourced top 100 by market cap. In fact a third of all companies ranked in the top 200-300 also achieved this self-imposed deadline as Chart 2 illustrates. However in the 4 weeks following the release of their results, the better resourced companies in the top 100 fared better with another  41% having lodged their published annual report with ASX, compared with 27% of the balance of the top 300.
Chart 2: Timing of Release of Full Annual Report by Company Ranking in ASX300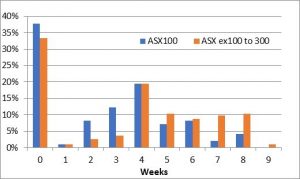 Review by Sector
So are there some sectors in the market that appear to be better organised or more committed to getting their reporting obligations completed in a timely manner?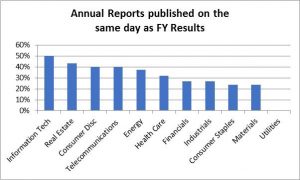 Information technology, real estate, consumer discretionary and telecommunications sectors all had 40-50% of companies releasing their annual reports on the same day as results, with a heavy weighting in the ASX300 to those companies outside the top 100.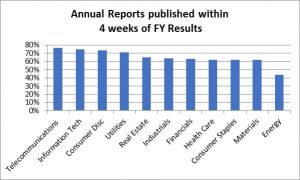 Four weeks after the release of the full year financial results, three of the same sectors – telecommunications, Information technology and consumer discretionary – together with utilities, reported over 70% of their constituent companies with published annual reports. With the exception of the Energy sector, the remaining sectors in the ASX300 had between 60-65% of constituent companies with published annual reports.
Six weeks after the release of their full year financial results, 85-100% of companies in most sectors had got their annual reports out the door. Four sectors stood out albeit with only a handful of companies being slow to publish their annual report:  health care and financials (each 79%), energy (69%) and materials (67%).
In Summary
A new reporting standard is being set by listed companies partly to improve internal efficiencies and meet expectations of investors, but also because the old timetable for production of the annual report is outdated and no longer relevant. It makes no sense to still be spending time and resources in the second quarter of the new financial year on a document that 35% of companies have demonstrated can be finished within the first 2 months. Institutional investors are always looking for indicators of management efficiency and focus on productivity – this could well be the next one.