Daniel Jones, Shareholder Analytics and IR
FIRST Advisers highlighted a trend amongst ASX 300 companies towards publishing annual reports on the day they announce full year results, 'Same-Day Reporting', in early 2017.  We have updated this analysis in order to confirm if a new standard is emerging around best practice for publishing annual reports.
For ASX 300 companies reporting in the year ended December 2016, a third published their annual report on the same day as reporting their annual results. That figure has risen to 37% in our current research, rising off its low of 27% in 2015 when we first started tracking the 'Same-Day Reporting' trend.
CHART 1: COMPANIES RELEASING ANNUAL REPORTS ON THE SAME DAY AS FINANCIAL RESULTS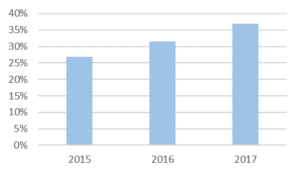 While it comes as no surprise to find the well-resourced ASX100 companies taking the lead, with 41% of companies adopting 'Same-Day Reporting', the extent to which companies across the ASX 300 have embraced this practice is impressive. Our updated research shows a third of mid cap companies, +6% on 2016, and 36% of 200-300 companies (+16%), published their annual report alongside their full year results
CHART 2: TREND TOWARDS "SAME-DAY REPORTING' WITHIN THE ASX 300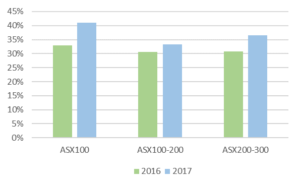 Where an ASX300 company hasn't managed 'Same-Day Reporting' we are still seeing a trend towards publishing their annual report sooner.  In the past year, 40% of companies released their annual report within a week of their financial results, up almost 20% on 2016, while more than half had released their annual report by the end of the third week compared to 48% in 2016.
CHART 3: NUMBER OF WEEKS BETWEEN FINANCAL RESULTS AND ANNUAL REPORT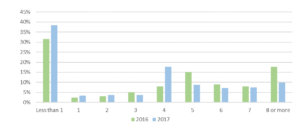 It is interesting that 18% of companies in ASX300 publish their annual report in the 4th week post results, which often coincides with the mailout of the Notice of Annual General Meeting. It may be that some companies feel that releasing the published annual report at the same time as sending out their AGM invite has some logic or perhaps it just buys them some additional time, but the trend towards 'Same-Day reporting' is clear and growing. Amongst the ASX100 only 17 companies had not released their annual report by the end of the 4th week after results.
Annual Report Publication by Sector
Our analysis of the shift within each sector of the ASX 300 towards 'Same-Day Reporting' shows the majority of them are moving towards this 'new norm', with all but three – Industrials, Telecommunication Services and Utilities – showing an increase in the number of companies publishing the annual report and financial results simultaneously.
It is worth noting the Industrials sector still remains amongst the leaders for 'Same-Day Reporting' with 48% of companies achieving the new benchmark, alongside 52% of Information Technology companies and 47% of companies in the Financials sector. The Utilities sector remains the only one not to have a company that has adopted 'Same-Day Reporting'.
CHART 4: 'SAME-DAY REPORTING – SECTOR BREAKDOWN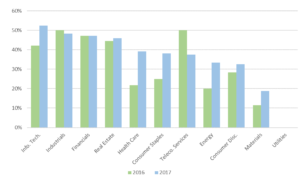 The Healthcare sector has seen the biggest shift towards 'Same-Day Reporting' in 2017, with a 77% jump in companies achieving the new benchmark while Consumer Staples had a greater than 50% increase in adoption of the new norm and a third of Energy companies in 2017 published their Annual report alongside their financial results compared to 1 in 5 in 2016.
Notably the two top performing sectors in FY16, Industrials and Telecommunication Services, were the only sectors to experience a decline in FY17.
Releasing the annual report on the same day as financial results is becoming the new standard in company reporting. It is facilitated by advances in publishing and content creation technologies and delivers significant efficiency gains by allowing The Board, Senior Management and Investor Relations teams to focus on the post results roadshow and AGM. In 2017 the number of companies embracing 'Same-Day reporting' jumped almost 20% and the trend indicates that number will continue to grow.
Stay tuned for November's FIRST Edition for an update on how this year's June Year End companies fare at achieving the 'new norm' in Annual Report Publication.