It is generally accepted, at least in the Australian equity market, that Retail Investors play an important role in the construction of a balanced shareholder register. The characteristics that make them attractive are that they generally invest for the long term, are volatility averse and focus on a company's fundamentals. However these traits can also make Retail investors hard to engage with and at times appear unresponsive.
Who are Retail Investors?
A recent ASX retail investor study found that 60% of Australian adults, that's over 11 million, hold investments outside of their super funds, predominantly in shares. Australian retail investors are typically investing for the long term with a focus on retirement and wealth accumulation. Interestingly there is anecdotal evidence that younger investors are also looking to invest as a way to save for a first home deposit or to fund overseas travel plans.
It is also interesting to note that the number of younger investors, those between 18 to 24 years of age, has doubled from 10% in 2012 to 20% in 2017, while the number of investors aged 25 to 34 years of age has increase by 15%, over the same period. These young investors are more risk adverse, looking for guaranteed returns over and above what is available from cash deposits in a low interest rate environment. They are also tech savvy and more willing to make use of digital wealth advisory or 'Robo' advice.
Digital technologies are also impacting the way retail investors trade. In 2014 58% of retail investors traded using non-advice brokers or on-line trading platforms, in 2017 that had risen to 65%. And a majority of Australian retail investors, around 60%, choose to conduct their own research with almost 1 in 3 seeking the advice of family and friends when making investment decisions.
How do Retail Investors access information?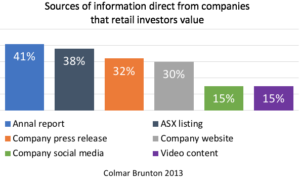 Retail investors value information direct from companies and view a company's website as one of the most useful ways to get information and news. Over 1 in 3 retail investors rely on ASX announcements and just under a third rely on company press releases. Social media and digital video content were both rated as high value sources of information by 15% of retail investors.
With the proliferation of real time digital and social channels it seems anachronistic that 41% of self-directed retail investors rely on the Annual Report as a primary source of information. This finding comes from the most recent data on retail investors' appetites for accessing company information compiled by Colmar Brunton in 2013. It seems likely that digital channels will have become more relevant with the increase in ubiquity and sophistication of smart phones and as 4G and Wi-Fi have become more widely available and stable.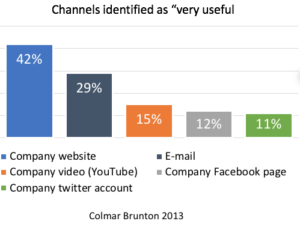 Of the various channels available to a company to directly engage with retail shareholders, their website is the most highly valued, with over 40% of retail investors rating it as very useful. Direct e-mails form the company are seen as very useful by almost 1 in 3 investors. Just under a 6th of investors rated company video content as very useful while around 1 in 10 found social channels very useful.
A quarter of retail investors said they found the business media to be a valuable source of information when making investment decisions, with over a third saying they expected on-line business media to become even more important.
How to be smarter about connecting Retail Investors?
With a company's website being seen as a very useful source of information for retail investors it is important that the IR function owns some of the on-line real estate on a company's home page. This can be as little as a link that clicks directly to the Investor Relations section of the website or as sophisticated as an embedded video of a member of the C-suite talking through the most recent financial calendar event with associated navigation to the Investor Centre.
The Investor Centre needs to give prominence to the most relevant, current information for all investors, in a timely fashion. When there is webcast collateral around key financial calendar events it is important to think about how to embrace technology to make these communication channels interactive, e.g. on-line Q&A's and polling, and to extend their life cycle and relevance by lifting out critical messages and making them more accessible on the website and through a company's social media channels.
Dedicated IR social media channels where content is curated for IR audiences and the specific uses of each channel are important to maintain the integrity of the IR narrative and avoid it being lost in the noise of marketing or customer focused messages.
Use Twitter as gateway to drive IR audiences back to the company Investor Centre or use 'cashtags' to direct audiences to investor focused twitter feeds.
LinkedIn is a great channel through which to profile your executive team, ESG and thought leadership credentials and to communicate key investor information directly to shareholders.
IR channels on YouTube allow the IR story to be told quickly and accessibly through video. Take a look at 'A day made of glass' a Corning Incorporated investor day presentation that went viral and has been viewed over 26 million times!!
It is not always easy to find time to audit company website navigation or the effectiveness of social media for engaging retail investors while doing the day job, so it is worth engaging an external IR adviser with expertise in this area. They are also able to bring a fresh perspective to the task that is unconstrained by attachments to unspoken boundaries that have arisen over time as the existing corporate website has evolved.
Every shareholder register differs and will have varying weighting towards retail investors. The typical profile of a retail shareholder as a long term investor, on the side of management and who is more inclined to think about a company like a business owner, means it is worth the effort to understand who they are. As activism rises and institutional shareholders, often with shorter term goals, continue to challenge boards over strategic or governance issues, engaging with retail investors is assuming a level of strategic importance. Companies now have a strong incentive to build on that support by looking at the way they communicate their story and see if there is a better way to tailor their IR narrative to this audience. One size does not necessarily fit all.