Giles Rafferty, Corporate Communications and Media Adviser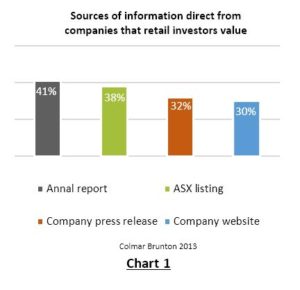 The world of investor relations is getting faster, busier and noisier. As soon as news hits the ASX announcements platform it is time to update the company website; amplify the news with tweets and social posts; push out the media release; set up interviews; live stream webcasts; monitor the media and watch the story unfold.
With technology creating the opportunity to engage both retail and institutional investors in real time, all the time, it feels somewhat anachronistic that the solid, dependable, snapshot in time represented by a company's Annual Report remains one of the most valued sources of investor information.
And yet retail investors place significant value on the Annual Report as a source of information direct from the company, (Chart 1) while institutional analysts, when initiating coverage of a company, start their research by reviewing a company's most recent annual reports.
Given Annual reports remain such an important Investor relations resource it makes sense to make their publication as timely as possible and their content engaging as possible.
Synchronising the publication of annual reports with full year results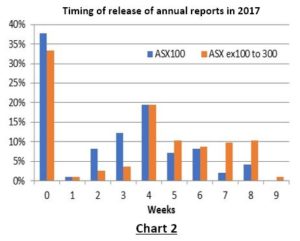 Advances in publication technology, combined with efficient financial accounting and some organizational rigor means it is now entirely possible to release a fully designed annual report on the same day as full year results.
In 2017 FIRST Advisers completed an analysis of the timing of the release of annual reports across the ASX 300 that revealed more than a third of companies published their full annual report on the same day as reporting their annual results (Chart 2).
If the big, well-resourced companies that make up the top 100 are excluded we see a third of companies in the ASX 200-300 were also able to synchronized the release of their annual reports with full year results.
Close to 50% of the companies making up the ASX 300's information technology, real estate, consumer discretionary and telecommunications sectors released their annual reports on the same day as results. 85-100% of companies, in most sectors, had published their annual reports within fourweeks of releasing full year financial results. The laggards were healthcare (79%), financials (79%), energy (68%) and materials (67%).
Bringing annual report content alive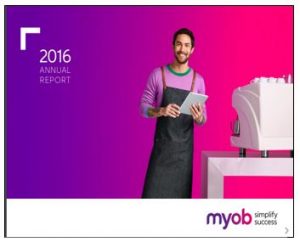 Technology is allowing the emergence of this new standard in timely publication of a company's annual report and it is also allowing for a more interactive and engaging presentation of the content. 83% of all listed Australian companies, and all the companies in the ASX 200, publish annual reports as PDF's.
A PDF does not have to be a static document, there are some basic features that can be easily incorporated to this format that will immediately make content more accessible:
Clickable table of contents to help with navigation to content of interest.
Embedding video links to introduce more engaging and rich media content
Clickable note references to guide investors to key information.
Enhanced navigation in the headers and margins
Many companies include some of these simple enhancements, with MYOB's 2016 annual report being one that contains them all.
Alongside more interactive PDF's there are also on-line versions of annual reports which open the door to more sophisticated levels of interactivity and engagement.
Custom PDF downloads that allow investors create PDF's of the content they are interested in.
Excel downloads that enable stakeholders to explore the report's data in a spreadsheet.
Interactive charts that let users play with data for greater insights.
Pop-up glossaries that explain acronyms, industry terms, etc.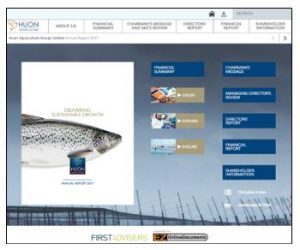 Worley Parsons' annual report provides a good example of allowing custom downloads while QBE also offer downloads of financial data as Excel spreadsheets that allow investors to interrogate the information as they wish.
FIRST Advisers helps its client, Huon Aquaculture, deliver improved navigation within their online report to allow stakeholders to target the content they are interested in.
And Bank of Queensland is amongst the one in ten ASX 200 companies that embed video content to bring their on-line annual reports alive.
In Summary
A new reporting standard is emerging that is built on improving internal efficiencies and the timely delivery of information to investors. When a listed company synchronises the publication of its annual report with the release of its full year results it benefits from getting a primary vehicle for its investment case into the market at the peak time of interest amongst market participants.
If the company then layers enhanced levels of interactivity, integrates additional navigation tools and introduces richer, more engaging content to the PDF or on-line versions of the annual report, it is giving this document a relevance beyond the immediate presentation of its historical financials.
FIRST Advisers combines deep investor relations experience, in house design capabilities and the corporate story telling skills that can help IR teams transition to a synchronised approach to the publication of annual reports.