Kingsgate Consolidated v Metal Tiger
On November 15, 2017 Kingsgate Consolidated's largest shareholder, London-based Metal Tiger, requisitioned a General Meeting to remove three of the four current Board members and replace them with five of their own nominees, including two independent directors.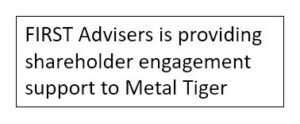 Metal Tiger plans to review litigation with the Thai Government and insurance companies to determine the best path forward. The activist is working towards restarting the Chatree Mine, finding financing alternatives and reducing the cash burn by limiting Board compensation for the initial six months.
Metal Tiger owns 6.7% of Kingsgate shares. The meeting is scheduled for January 9, 2018.
Rio Tinto
Following Jan Du Plessis resignation, dual listed Rio Tinto has promoted director Simon Thompson to the role of Chairman. The mining conglomerate initially planned to appoint Sir Mick Davis to the role but encountered resistance from a group of shareholders owning ~20% of stock. The group of shareholders reportedly sent a letter to the Board, saying the appointment of Davis, who is also Chief Executive of the Conservative Party, was unacceptable because of his history as a dealmaker.
Murray River Organics v Meredith Nominees & BLBD
Dissident shareholders Meredith Nominees and BLBD have requisitioned a General Meeting of Murray River Organics to replace three directors, along with any directors appointed to the Board prior to the meeting, with their own nominees.
The activist shareholders which own ~5% of stock called the meeting the same day Murray River Organics paid an infringement notice to ASIC in response to allegations that the Company, between April 26 to May 4 2017, 'contravened its continuous disclosure obligations'.
Molopo v Keybridge v Aurora v Wilson Asset Management
At the General Meeting requisitioned by Keybridge on November 10 2017, the activist was successful in removing Alexandre Gabovich as Chairman of Molopo; Baljit Johal replaced him. Keybridge's other resolution to appoint William Johnson to the Board was knocked back by shareholders.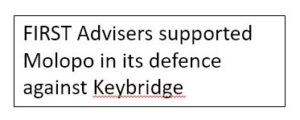 On the same day as the General Meeting, Wilson Asset Management released an announcement that it intends making an off-market takeover bid for the embattled energy company at A$0.135 per share. Molopo is yet to make its recommendation in relation to WAM's Offer.
In regards to Aurora Funds Management's takeover bid, Molopo released its Target's Statement, recommending shareholders reject the Offer.
Collection House v Lev Mizikovsky (Ankla)
Philip Hennessy has been removed from the Board of Collection House after approximately 63% of shareholders voted in favour of a resolution, put forward by activist Lev Mizikovsky, to remove him.
Mizikovsky who owns 9.4% of Collection House stock requested the Company disclose a forensic accountant report commissioned by the company. He believed there was potential conflict of interest because of Hennessy's past employment at KPMG, the accountancy firm that is now Collection House's auditor.
In addition to the removal of Philip Hennessy, Chairman Kerry Daly stepped down after failing to be reappointed. The Company also received its first strike with ~43% voting against the remuneration report.
Tap Oil v Risco Energy
Singapore-based Risco Energy wants to remove Chairman James Menzies and Director Peter Mansell, along with its own nominee Tom Soulsby. The activist, which holds 21.5%, is seeking to appoint Chris Newton and Govert Van Ek to the Board. In an unusual move, Tom Soulsby convened the General Meeting of Tap Oil to vote on his own removal.
Tap Oil claims Risco is acting in concert with another activist Chatchai Yenbamroong and is seeking help from the Takeovers Panel. Tap Oil wants to prevent the shareholder from voting its shares at the General Meeting and to force Risco to disclose its ultimate owners and shed light on the association between Risco and Chatchai Yenbamroong.
Director Andrea Hall has said she does not support the dissidents and would resign if her fellow directors were removed. If this happens, Tap Oil will be in breach of the Corporations Act, which stipulates at least two directors must be Australian residents.
MMA Offshore v Halom Investments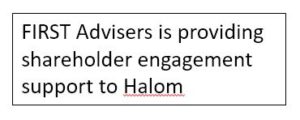 Singapore-based investment vehicle Halom has put forward four resolutions to be voted on at the AGM, namely to remove directors Anthony Howarth and Jeffrey Weber and appoint Jeffrey Mews and Ajaib Hari Dass to the Board.
Halom made an application to the Takeovers Panel in connection to MMA's entitlement offer and placement, announced on 16 November 2017. The Takeovers Panel made a declaration of unacceptable circumstances and accepted undertakings from MMA to postpone the date of the AGM until 19 December 2017.
Myer Holdings v Premier Investments
Solomon Lew's Premier Investments failed to block the election of Garry Hounsell as Chairman to the Board. Myer shareholders also voted for the re-election of JoAnne Stephenson and Julie Ann Morrison as directors.
Proxy advisory firms Ownership Matters, Glass Lewis, ACSI, and ASA all recommended shareholders vote in favour of the resolutions.
Premier Investments has a big enough stake in Myer to call an Extraordinary General Meeting if it wishes.
Myer received its first strike with ~29% voting against the Remuneration Report.
APDC v 360 Capital v NextDC
Following APDC's AGM, 360 Capital have gained control of the Board. 360 Capital's Tony Pitt was elected as a Director and David van Aanholt appointed as Chairman. John Wilson and Lawrence Gibbs were also appointed to Board, following the resignation of three former directors.
APDC received its first strike as ~30% of shareholders voted against the Remuneration Report.
NextDC decided to end its proxy battle with APDC after it became clear it would not be able to solicit enough votes to elect its nominees.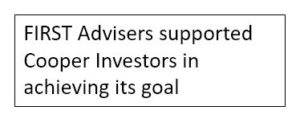 Eureka Group Holdings v Cooper Investors
Cooper Investors wrote to Eureka shareholders, detailing concerns over the Terranora Project and Couran Cove Project. It also proposed the appointment of Murray Boyte and Sue Renkin as non-executive directors of Eureka, and the removal of Robin Levison as Chairman.
Cooper Investors took a constructive approach to work on a suitable resolution to the issues raised in its letter to shareholders and as such Murray Boyte and Sue Renkin were both appointed to the Board. Robin Levison stepped down as Chairman and resumed the role of non-executive director.
FIRST Advisers is the top ranked Australian Proxy firm
FIRST Advisers is the top ranked Australian Proxy firm and the 6th ranked globally in the 2017 Intermediary Awards. The awards are compiled by the UK based Activist Insight magazine and are dominated by US and European firms, many of which have global operations.
The 2017 Intermediary Awards Proxy firm league tables are derived from public announcements including proxy statements, regulatory filings, and press releases. To be included, a campaign must have seen the company in question subjected to a public demand by an activist during 2017.