Kingsgate Consolidated v Metal Tiger

Metal Tiger, which owns 8.5% of Kingsgate Consolidated, requisitioned a General Meeting in November 2017, seeking to remove three directors and replace them with five of their own nominees.
All resolutions were voted down by shareholders; however, there was support for Metal Tiger with 45% of investors voting in favour of the removal of Ross Smyth-Kirk and Sharon Skeggs. Another 45% voted for the appointments of Richard Warbuton and Neville Bergin.
While Metal Tiger has since sold down its holding from 8.1% to 5.5%, its CEO, Michael McNeilly, has said that they intend to remain invested and will be watching the board closely to see if it delivers on its promise to look at board renewal. Kingsgate Chairman, Ross Smyth-Kirk has indicated that he will 'look at' the issue of board renewal but no changes were expected in the short term.
Vocus v Janchor Partners
In October 2017 activist Janchor Partners increased its ownership in Vocus Group to 7.7%. It has continued to acquire stock with the activist now accounting for 9.2%.
Earlier this month Vocus announced the founder and CIO of Janchor, Mr John Ho, had joined the Board.
Mr Ho, currently holds a 17.9% indirect interest (through Janchor Partners) in Vocus which comprises 9.2% of voting shares and 8.7% through cash settled equity derivatives.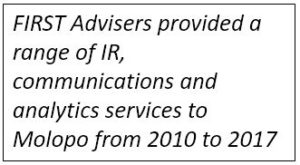 Molopo v Keybridge Capital & Aurora Funds Management v Wilson Asset Management
WAM Capital, an investment vehicle of Wilson Asset Management, announced it has withdrawn its takeover Offer. The activist stated the company's additional expenditure commitments triggered the 'no material transactions' condition. WAM's offer price of AU$0.135 matched that of fellow shareholder and dissident Aurora Funds Management. Aurora's offer remains open until 20 April 2018.
Keybridge has released a letter to shareholders, stating that it is investigating Molopo's investment in Orient FRC and declaring it will destroy shareholder value. The activist shareholder is one of Molopo's largest investors and has been battling with Molopo since November 2014. The letter has been uploaded to its website.
Quintis v Domenica Nominees Pty Ltd
On 22 January 2018, Quintis announced it had filed for administration; its shares had been suspended since May 2017. Quintis' Chairman Dalton Gooding said, "We are very disappointed with this outcome given the huge efforts made over the last nine months to recapitalize the company in order to deliver its sustainable future."
Earlier this month, Quintis received a notice to requisition a General Meeting under section 249D. The requisitioning shareholder, Domenica Nominees Pty Ltd, was seeking to remove three of the company's directors and replace them with their own nominees. Quintis said that it did not support the motion.
MEC Resources v Dissident Shareholders
On 22 December, MEC received a notice under 249F from a group of shareholders who intend to hold a General Meeting, to remove all directors. The group of shareholders, in aggregate represent approximately 5.1% of MEC stock.
Following a telephone conversation with one of the requisitioning shareholders, MEC believe former MD David Breeze is behind the notice. Breeze, who is the founder of BPH Energy, has said he is not behind the motion, but does support it.  Breeze told shareholders in December that he is still open to engaging in a dialog with the firm, but only if the board is overhauled.
The Board does not support the motions put forward and recommends shareholders take no action at this time. Similar resolutions were put forward and rejected at an EGM in March 2017.
Condor Blanco Mines v Substantial Shareholders
Condor Blanco Mines has received a notice from a substantial shareholder to requisition a General Meeting before 8 March 2018. The meeting will consider the removal of all current directors and the appointments of Patrick Volpe, Vince Truda and Ramon Jimanez.
The company, which has been in a trading halt since May 2016, is gauging the implications of the notice, specifically the Company's position with creditors.
Murray River Organics v Meredith Nominees & BLBD
In November 2017, Meredith Nominees & BLBD requisitioned a General Meeting of Murray River Organics to replace three directors with their own nominees.
On 24 January 2018, three dissident nominees were elected to the Board, receiving more than 52% of votes cast with Craig Farrow, Lisa Hennessy and Ken Carr all removed from the Board.