DANIEL JONES, SHAREHOLDER ANALYTICS AND IR
As we approach the traditionally busiest quarter for shareholder activism in Australia, it is time to take stock of how activists have fared to date in 2019.
Has Activism in Australia peaked or just taking a breather?
According to Activist Insight, in 2019 there have been 42 public activist demands in Australia, down slightly on 2018 (45) which went on to become the busiest year on record for Activism. By comparison, there were 35 activist campaigns over the seven months to July 2017 and 33 in each of 2015 and 2016. Japan has surpassed Australia as the busiest country for activists outside of North America, following its fourth consecutive year of increased activity. Australia has, however, for the first time, reported more activism than Canada.
---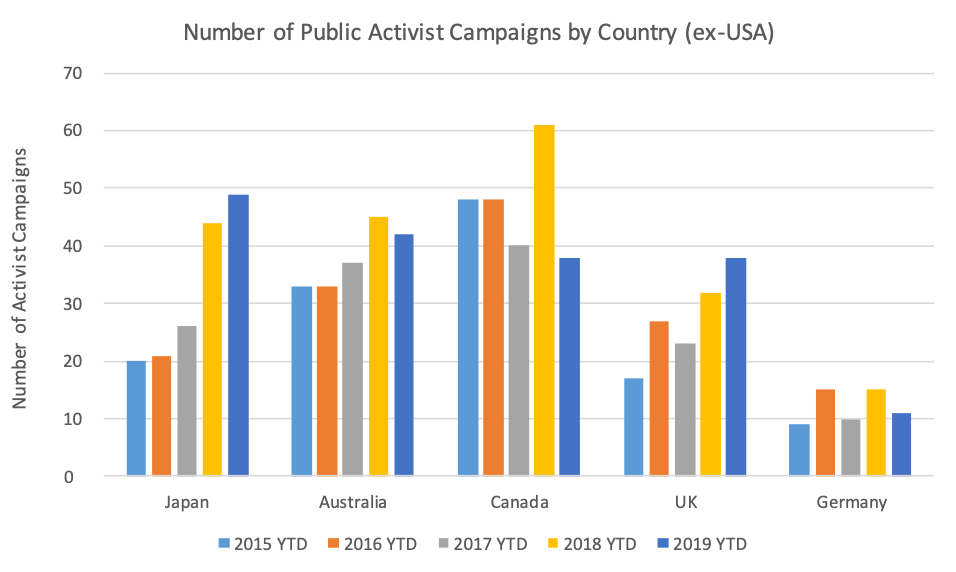 ---
Despite declining in absolute terms, Australia's relative share of global activism continues to rise. So far in 2019, Australia has accounted for 19% of activity outside North America, which represents the fourth straight year-on-year increase (YTD 2018; 17.0%, YTD 2016; 16.5%, YTD 2015; 14.4%). So we think that the momentum is still there.
Materials companies remain the focal point of domestic activism
45% of 2019 Australian Activist campaigns have focused on companies in the materials sector, which is slightly higher than each of the previous two years. However, it remains well below the all-time high in 2013 when, coinciding with the end of the mining boom, materials companies accounted for two thirds of activist campaigns.
Activists appear to be more sector-agnostic on a global level. The most heavily targeted sectors worldwide this year are Services (22.9%), Financials (19.7%) and Materials (13.8%), which is consistent with previous years.
The rate of activism has fallen globally
There has been a global reduction in Activism with 621 companies publically subject to activist demands in the year to date, compared to 716 in 2018. Despite the 13% fall from last year, Activism is now tracking in line with the average number of campaigns experienced over the previous three years.
---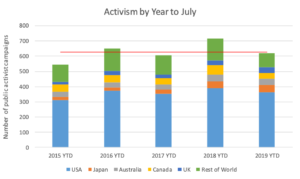 ---
What is more interesting however is the trend by country and region this year with the largest declines, on an absolute basis, occurring in the USA (-29), by far the world's most activist-prone market, and Canada (-23). If we look, however, at where the largest proportional reductions have occurred, it is in the Asian nations, specifically China (-70%), Singapore (-56%) and South Korea (-40%). The only countries to experience an increase in activism on the previous year are Japan, UK and France.
No Large-Cap Activist campaigns in Australia
Small companies have been the focus of activists in Australia so far in 2019 with more than 90% of activity occurring at Nano or Micro-cap level – a record high. This compares to 80.5% in 2018, or an average of 77% over the five years to 2018.
It is worth noting that activists have historically targeted 2-3 Australian large caps each year, although four of the five large-cap campaigns over the previous two years have occurred later in the Calendar year, often coinciding with the target's Notice of Meeting for its AGM.
Domestic Board Related Activism rebounds from 2017 lows
In Australia, Board Related activism has been the focus in three out of every four activist campaigns in 2019, compared to 70% in 2018. Although this remains below historical highs – domestic Board Related Activism represented 90% of activist demands in 2013 – it has been an area of increasing focus for Activists since its 2017 low of 64%.
---
Type of Activism
2019 YTD
2018 PCP
Change
2019 YTD
2018 PCP
Change
AUSTRALIA
GLOBAL
Board-Related
75.0%
69.8%
5.2%
48.3%
44.0%
4.3%
Other Governance
5.8%
8.1%
(2.3%)
20.3%
18.6%
1.7%
M&A Activism
7.7%
10.5%
(2.8%)
11.4%
13.2%
(1.8%)
Balance Sheet
6.7%
7.6%
(0.9%)
9.9%
11.6%
(1.7%)
All Others
4.8%
4.0%
0.8%
10.1%
12.6%
(2.5%)
---
"Other Governance" matters have been the focal point in 20% of Activist campaigns worldwide in 2019, a figure which has increased in each of the past 5 years. This is arguably the most prominent worldwide trend in activism, and comes as an ever growing class of institutional holders – including powerful passive managers such as BlackRock, Vanguard and State Street – continue to demand companies prioritise non-financial metrics such as gender diversity, social issues, environmental change, and political positioning.
In Australia, however, Other Governance matters have been the focus of only 5% to 8% of activist events in recent years, including 6% so far in 2019. FIRST Advisers has an established track record of dealing with activist situations in Australia, both on behalf of companies and, on occasions, for activist investors. Our expectation is that Australian companies that do not have sufficient rigour around how they report on, and manage, their ESG risks could find themselves at risk of being the target of this growing style of shareholder activism.